This Medieval stronghold still contains reminders of its past, such as the Romanesque baptismal font, a 15th-century painting of the Virgin, a rock crystal crucifix (15th-16th century) and other paintings which are to be found in the ancient church of St Andrew Apostle.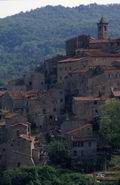 The woods are full of hiking trails and paths for walks, cycling and horseback riding, and numerous agricultural holdings offering holiday accommodation and local produce can be found here too.

In Sassetta, old traditions handed down through the years are kept alive with colourful, folkloristic events. Sassetta's delicious, wholesome food is celebrated at the autumn fests.
The countryside
Wild boar, roebuck, fallow deer and porcupine inhabit the woods of chestnuts and holm oaks covering the red limestone hills.
Scenes from daily life and old trades, such as the chestnut gatherers and charcoal burners of Sassetta, can be seen in The Woodland Museum.
The beautiful Poggio Neri forest park is an unspoilt, natural oasis.
In the peaceful countryside where agricultural holdings and farms offer accommodation and extend a warm welcome, chestnut and mushroom gathering are delightful pastimes.
TEXTS AND PHOTOS COURTESY OF "COSTA DEGLI ETRUSCHI" TOURIST AGENCY