The Presbytery Area
Going on with the analysis of the pictorial decoration of the presbytery area, which well exemplifies the long and complex stratification of the different artistic works in the Cathedral, we can observe the two rectangular scenes located at the sides of the big altar-piece made by two main artists of the Cremonese painting of the second half of the 16th century: Bernardino Campi painted the right scene (Entrance in Jerusalem) in 1574, while in the summer 1582 Antonio Campi made the left scene with the Story of the Servant and the Centurion. In a context already so historicized, between 1830 and 1834 the introduction of other four scenes was decided (Blessing of the infants, consignment of the keys to St Peter, St. Thomas disbelief, apparition of the angels after the Ascension) assigned to Giuseppe Diotti, the most important artist of Cremona during the first decades of the 19th century, former director of the Carrara Academy of Arts of Bergamo.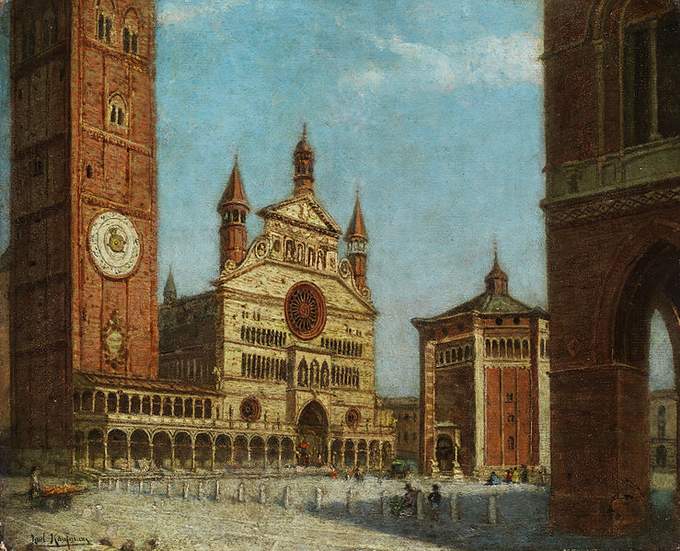 Going on to see the furniture of the presbytery area we may start from the magnificent wood altarpiece by Domenico Capra and Paolo Maltempo (1573), framing the Assumption, last work of Bernardino Gatti began in 1575 but remained unfinished because of his death, as the presence of only six apostles, in the lower part of the painting, shows.
Under the altarpiece is located the beautiful canonical choir, with two orders of stalls, a stupefying work of wood engravure and inlay made by Giovanni Maria from Piadena, known as "II Platina". The work lasted 7 years, from 1483 to 1490, and it alternates more numerous scene of still life in its precious back rests, where even different musical instruments appear, and faithful images of Cremona, as it was at the end of the 15th century (it is interesting to notice in the left marquetry the reproduction of the square and the facade of the cathedral before the important change of the 16th century).
Even the high altar comes from the replacement of the old altar, sculpted by Sebastiano Nani in 1573, to which G.B. Zaist superimposed an elegant elevation made of polychrome marbles and bronze finished in 1732. This series of artistic works is closed on the right by the big front of the organ, a work by Giuseppe Sacca based on a drawing of Giulio Campi and faced by the choir, the last one is a work by Bartolomeo Vianini and Paolo Sacca of 1569.