The landscape is made of harsh and narrow valleys such as those of Bidenti di Pietrapazza and Ridracoli or wide open valleys like the Savio valley dotted with the main towns: San Piero in Bagno, Bagno di Romagna, Selvapiana and Acquapartita.
Bagno di Romagna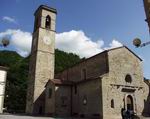 An outstanding thermal resort, renowned for over 2000 years for the beneficial effects of the natural hot water springs that gush out at a temperature of 45° after an underground cycle which has been going on for 700 years. Pure water spurts out in three modern thermal spas and is used for health and wellness treatments.
The origins, history and development of this town are closely linked to the thermal activity. The importance of this activity is underlined by its name Balneum, meaning 'bath' in Latin. In the 11th century it was owned by the noblemen of Valbona and then in the following century by the Counts Guidi of Modigliana and the local branch of the family, the Counts Guidi of Bagno. In 1404 Bagno di Romagna passed under Florentine rule until 1923 when it became part of today's province. The 15th century Palazzo del Capitano, seat of local political power in the Middle Ages, is a clear example of its Florentine roots. The function of the building is clearly represented in the 74 stone coats of arms on the façade. Magnificent works of art of Tuscan origins are kept in the elegant Romanesque Basilica of Santa Maria Assunta, which was modified during restoration work in the 15th and 16th century.
Places of nature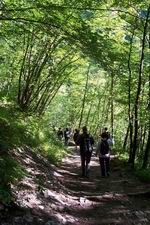 The area of Bagno di Romagna is dotted with streams, small lakes, abandoned valleys and mountains, offering a natural landscape of rare beauty. The area is part of the National Park of the Casentino Forests, where nature is defended and protected and you can enjoy some of the most beautiful views of these valleys: the fascinating Lama Forest, the delightful lakes of Comero (Pontini, Lagolungo, Acquapartita) and the abandoned and silent Pietrapazza Valley.
San Piero in Bagno
It is an ancient and famous market and trading place. The Tuscan influence can be seen in the architecture of the old town, and especially in the buildings overlooking the main Piazza Allende. The round hill of Corzano, with the remains of the imposing medieval castle that once belonged to the Counts Guidi, dominates the village. At the foot of the hill there is the small Sanctuary of the Madonna di Corzano, with an original asymmetric structure and low thick walls.
Texts and images are published with courtesy of Province of Forlì-Cesena Tourist Office www.turismo-fc.it