Fondotoce is one of the districts of Verbania, the chief town of Verbano Cusio Ossola province, created as a result of the unification of Intra, Suna and Pallanza. Pallanza is located in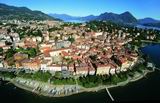 a very panoramic area and is full of tourist attractions, such as elegant villas surrounded by magnificent gardens, like Villa Taranto, with one of the most important botanical gardens in the world with its 20,000 varieties and plant species, Villa San Remigio, with a park chracterised by typical Italian terraces, the English garden, the hortus conslusus and the harmonious wood; Villa Giulia with its garden and public park, where conferences and cultural events take place.
The city museums are also very interesting: the landscape museum, located in Viani Dugnani palace, contains Lombardy and Piedmont pictures dating back to the XVIII and first half of XIX century; the Troubetskoy gallery of plaster casts is also located in this building. The Museum of people religiousness, which contains approximately 5000 ex-voto, is located in the Biumi-Innocenti Palace. As far as the religious buildings are concerned, the Renaissance church of Madonna di Campagna, with its 11th century bell tower and the Romanesque Oratory of St. Remigio, also dating back to 11th century and awarded the national monument status, are worth a visit. From the promenade of Pallanza, where important cultural events and shows such as "Corso Fiorito" (a parade of allegorical carts) take place during the summer, look at the mountain peaks, other coastal cities and islands of the Borromeo Gulf. The gulf is closed by the so-called "St. John's little island" dominated by 17th century Borromeo Palace, where the composer Arturo Toscanini lived for many years. Intra is one of the most important commercial cities of the lake; shops and boutiques are located in the streets of the old part of the city, flanked with 17th and 18th century Baroque buildings. The Saturday market, which attracts visitors even from Switzerland, is very picturesque.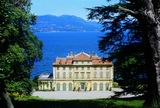 The Oratory of St. Fabiano and Sebastiano, with its Romanesque apse and bell tower, in Suna is also very interesting.
Moreover, Verbania is the perfect starting point for many excursions. Among the surrounding cities, the following ones are worth a visit: Vignone, a famous resort, with its St. Martino complex near the homonymous 15th century church, with its precious decorated windows; Cambiasca, with its 18th century buildings in the old part of the city, elegant loggias and porches; Miazzina with its "Ca' dal fumm", a private museum containing typical objects of the farming tradition; Bèe, famous for its mild climate and rural landscape, at the foot of Mount Cimolo, from the top you can enjoy a wonderful view of the lake and Intrasca valley; Arizzano, where you can relax and take wonderful walks in the parks and woods; Premeno boasts of a golf course in a panoramic location and many elegant villas, such as Villa Bernocchi, with its luxurious park, where important concerts, exhibitions and conferences take place.
Texts and images are published with courtesy of
Lake Tourist District Scrl - corso Italia 18
Stresa (VB)