Isola Superiore, also known as the "fishermen's island" to highlight the traditional work of its inhabitants, is a spectacular maze of picturesque and charming alleys, with its typical white houses with colourful doors and windows, which impressed famous visitors like Hernest Hemingway, Arturo Toscanini and George Bernard Shaw.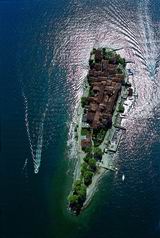 Isola Bella was named after Isabella d'Adda, Charles III Borromeo's wife; he promoted the initial activities to transform the island and build an impressive baroque building (1670), which were continued by his son Vitaliano VI Borromeo. Excellent works of art, tapestries, furniture ans paintings decorate the halls of this building. The italian gardens, rich in plants and flowers of all types and covering ten overlapping terraces, embellished by fountains, statues and architectural structures, are very spectacular. Isola Madre is the largest of these three islands; it contains a luxurious English garden with wonderful plants and even some exotic varieties, surrounding a Sixteenth century palace. Moving from the southern to the northern part of the Borromeo Gulf, you will come across Belgirate, a city built in a very sunny area at the foot of Motta Rossa. Thanks to the mild climate, people settled in this area in ancient times and wonderful villas, were famous people like Giovanni Verga, Edmondo De Amicis and Gabriele d'Annunzio met, all built in the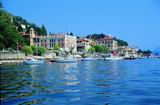 Nineteenth century. Villa Treves, where Guido Gozzano's novel "L'Amica di nonna Speranza" was set, Villa Carlotta and Villa Bono Cairoli are worth a visit. The old part of the city, located on a slope, is a maze of alleys and steps with charming views. The Church of Santa Maria del Suffragio, also known as the old church, with its wonderful frescos, is located in the highest part of the city. It has a Romanesque bell tower (XI century) and a XVI century porch. Important cultural events, like the International Poetry Contest "Guido Gozzano", take place in Belgirate every year.
Moreover the first rowing association was established here in 1858. Continuing along the coastal road you will come across Stresa, the "pearl" of the Borromeo gulf and the ancient feud of the Visconti and Borromeo families. Famous travellers like Stendhal. Charles Dickens and Lord Byron, rendered the city famous by choosing it as one of the destinations of their "Grand Tour". Ernest Hemingway set some passages of his famous novel "Addio alle Armi" in Stresa. Stresa is famous not only for its wonderful promenade, where famous Liberty hotels are located., but also for its exclusive villas, full of history: Villa Vignolo, Villa Niobe, the famous Villa Pallavicino with its wonderful botanical and zoological garden, and Villa Ducale, which originally belonged to the Duchess of Genoa and then to the philosopher Antonio Rosmini.
The International Rosmini Study Centre and a very rich library are located in the building. Every year international conferences and events take place in Stresa and its Congress Palace, such as the Music weeks of Stresa and the Lake. Interesting excursions can be organised in the hinterland: driving along the road wichi takes to Mottarone (1491 metres a.s.l.), a famous ski resort with a wonderful view of the Lake, at about 800 metres above sea level, you will come across the "Alpinia" botanical garden with more than one thousand botanical and officinal plants.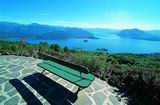 Leave Stresa and keep driving north; you will come across Baveno, a holiday resort already famous in the last century, witness its luxutious vills scattered everywhere, such as Villa Henfrey (also known as Villa Branca), where even Queen Victoria, Winston Churchill and Lord Byron stayed, and Villa Fedora, which belonged to the famous composer Umberto Giordano; in his honour an opera, classical music and ballet festival is organised every summer. The parish church of SS. Gervasio e Protasio, located in the old part of the city and dating back to the X-Xi century, is worth a visit. The octagonal baptistery and the Romanesque bell tower are planced next to it. Baveno is also famous for its pink granite quarries, used to build the Vittorio Emanuele Gallery in Milan and the St. Paul's Basilica in Rome.
Tourists enjoy the small district of Feriolo, where the Roman troops going to the Alpine passes used to stop. It still maintains the typical features of a village of fishermen and stonecutters.
Texts and images are published with courtesy of
Lake Tourist District Scrl - corso Italia 18
Stresa (VB)