The World Wilderness Association defined this Park as "the sole European natural area that integrally maintains its original ambient conditions". It is a secluded territory, protected by steep mountains, and can be accessed only through walkable passes. It was once inhabited by people practising sheep raising and deforestation. Now it is deserted and nature has savagely taken over during the last forty years or more since man has stopped handling it. The rich variety of vegetation is one of the most interesting characteristic of this valley, inhabited by chamois, roebucks, fox, deer and many other animal kinds, among which the eagle.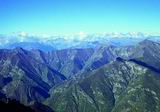 The most suitable time of the year to visit the Park is in spring, summer, and early autumn due to the favourable climate conditions. The web of paths, some of which very exacting namely for those who do not know the valley, should be walked on prudently and with the assistance of experienced guides. As a first approach to the park, you may take a look at the visitng centres in the small towns close to the park: San Bernardino Verbano (country ward of Rovegro), Intragna, Premosello Chiovenda, Buttogno and Cicogna. The villages within the park boundaries not only offer walks among untouched nature, but also artistic and historic remainders of the past centuries.
In the country ward of Bieno, in the municipality of San Barnardino Verbano, you can admire a beautiful and well-maintained Romanesque bell-tower, located next to the 18th century Parish Church. Always from Bieno, you can walk to Ompio, that in times past used to be an alpine summer pasture, an on the mount Faiè. In the country ward of In Oca, in the municipality of Cossogno, there is a 17th century oratory dedicated to the Virgin Mary (Madonna del Re) built as a bulwark against the 1630 and 1632 plaque epidemics. Coming down a mule-track and after crossing a Roman bridge, you reach Rovegro. In the town of Intragna, you can be interested in the imposing "seven-altared" Parish Church and the Valgrande National Park visitng centre that is dedicated to night animals.
A pleasant and good-for-all walk leads to the Piancavallone refuge. Aurano too offers a wide variety of walks thanks to the mule-tracks that spread through the woods and the dense web of paths bringing to summer pastures. The climb to mount Zelda is definitely more difficult.
Texts and images are published with courtesy of
Lake Tourist District Scrl - corso Italia 18
Stresa (VB)