Levanzo is a special island. Those who stop over here must love the sea deeply, but they must love land as well. They must be fond of living the nature, of walking or riding a mule along paths winding steeply up to the mountain.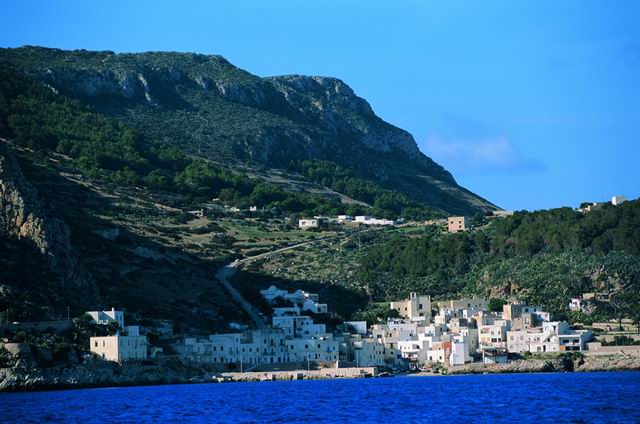 They must love people and must know how to stay with them without any prejudice, listen and talk to them tactfully.
Outside, in the only road that crosses the land, at Cala Dogana, islanders and foreigners live together. They share their days and their daily things. They talk, joke and tell stories or they simply keep quiet.
Those who love Levanzo, love the simplicity of things, that simplicity that is not superficiality, but, on thr contrary, is the essence of life. Levanzo is a special island, and those who really love it are special people and must know their love will be forever.
The town faces the sea, the houses onto the street that is almost a terrace over the small port. Leaving the town for a pleasant walk westward and passing Punta Pesce you reach the Faraglione.
You eventually reach Grotta del Genovese on a mule. On the contrary, you will enjoy the sun and the clear waters of the sea at Cala Fredda and Cala Minnola which canbe reached through a path leaving the town eatward.
If you go boating you will known and amire the northern part of the island, the mountainous coastline and its sheer drop from the rock to the sea, and beauiful Cala Tramontana. Passing Capo Grosso. Southwards, you'll reach Cala Calcara sheltered from Scirocco wind.
If the sea is smooth you can easily reach by boat Grotta del Genovese, a prehistoric cave of immense scientific and cultural value discovered by chance in 1949 by a painter from Tuscany. It consists of a cave preceeding a low and damp passageway leaing into a cavern. Inside the cavern, on the walls, you can admire the rare and priceless prehistoric paintings and graffiti showing hunting and fishing scenes, figures of humans, animals, deer, cattle, horses, tunas. The paintings and the graffiti no doubt date back to different periods and civilizations and they testify the presence of man on the island over 10.000 years ago.
Levanzo's depths are a paradise for those who love diving. The sea is coloured by the shades of green and deep blue and it is rich of flora and fauna. It still keeps numerous archeological findings dating back to the punic battles and the roman period. Anfora, vases, anchors lie on the depth of this generous sea guarding jelously age – old stories, adventures of men and battles, myths and legends.
Texts and photos, gently permitted, are property of A.P.T. Trapani - www.apt.trapani.it