ISLAND OF GIGLIO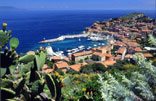 Tourists and visitors are drawn to this granite island in all season, attracted by the sparkling sea and the beauty of nature, by the colours, the flavours. High pink cliffs drop sharply to the sea, broken only by small coves, bays and the large, sandy beach at Campese. Giglio's mild climate assures its visitors a vacation without unpleasant surprises. The flora and fauna are particularly interesting and the Mediterranean scrub blends with olive groves and perfumed vineyards. It is from these vineyards that the esteemed white wine, Ansonica is produced. Today's inhabitants are concentrated in the three centers, Giglio Porto, Giglio Castello and Campese. The charming town of Giglio Porto is nestled along cove between two piers and backed by the terraced hill planted in vineyards. From here, a narrow, winding road climbs up to Giglio Castello. The village has kept its original fortified appearance, surrounded by high medieval walls complete with towers. The Rocca Pisana looms over a maze of narrow streets, covered by arches, dark under-passages, steep staircases and old houses, crowded on top pf each other. Campese is located on the island's western coast. It is in the centre of a bay, bordered by a wide, sandy beach that is enhanced by then presence of an imposing tower built at the time of Ferdinando I.
ISLAND OF GIANNUTRI
Tiny Giannutri is a few kilometres from Giglio and, as you draw near, you immediately feel that you have stepped into a mythological world of ancient Mediterranean marines. Three limestone knolls, Capel Rosso, Monte Mario and Poggio Cannone, outline it against the sky. The only inlets interrupting a coastline of steep cliffs rising sharply from the sea are Golfo Spalmatoi and Cala Maestra, the only two places where mooring is permitted. The island was called Artemis by the Greeks and Diana by the Romans because of it is shaped in the form of a bow, favoured by this huntress goddess. It still holds its historic fascination and the environment remains untouched. This small islannd was a favourite with noble Roman families from the Imperial Age who took note of its beauty and came here to get away and relax. Happily, important historic evidence of their presence may still be seen by the visitor. One of the most important archaeological sites in the archipelago, the villa of the Domizi Enobardi family, is near Cala Maestra. It was a sumptuous villa built on this magnificent natural terrace overlooking the sea, and a number of columns with capitals in composite style, lonic and Corinthian, can still be seen today. Two other constructions complete the visit of Roman ruins. These are the port at Cala dello Spalmatoio and for buildings between Poggio dello Sperone and Poggio Cannone. Because Giannutri is private property, there are no hotels and camping is prohibited. However there are guided tours of the island organized by both the island of Giglio and Porto Santo Stefano.
NATURE AND ENVIRONMENT
A short time spent amid these splendid natural surroundings or a trip to the National Park are sufficient to realize how complex and varied this sea and handkerchief of land are. Typical Mediterranean vegetation thrives, with woods of Holm-Oak, expanses of Juniper and thickets of Mastic trees and Myrtle. In addition to vineyards and olive groves, there are various species of wild flowers and plants as well as the remarkable presence of a number of types of Chestnut trees, growing here in an environment that could be considered quite unsuitable for them. It's easy to spot wild hare, a common species in the Archipelago, and numerous colonies of Herring Gulls that populate the coasts to mate or rest during migration. The sea-bed is also densely populated with flora a fauna and endangered species such as sea urchins, octopus, sea anemone and the most important marine plant in the Mediterranean, the "Posidonia" sea-grass, have found refuge here.
FOOD AND WINE
Such natural bounty leads to expectations of flavours that captive and astonish and these expectations are well met by the vast variety of flavours and simplicity of the local food and wine. Marvels from the sea are fished daily and prepared with originality and gusto. Wholesome olive oil, vegetables and local aromatic herbs help turn seafood dishes of gilthead, bass, sea bream, white bream and innumerable molluscs into delicacies, not to over-look lobster, crayfish and delicious thinly sliced, raw swordfish served with oil and parmesan cheese. Meat and game are prepared according to time tested Tuscan traditions. An outstanding example is one of the classics of Giglio's cusine: rabbit "alla cacciatora", prepared with garlic, rosemary, hot peppers, tomatoes and white wine. To accompany these rich flavours from sea and land, is the full-bodied, amber-coloured local wine, Ansonica, produced on the island since antiquity.
ACTIVITIES
You might choose these islands simply to devote yourself to luxuriating in the magnificent sea that surrounds them, but you might also wish to try the various sporting activities of the innumerable for relaxation and diversion. You can find whatever type of sailing is to your taste and the temptation to circumnavigate the islands can be gratified at any moment. Scuba diving is becoming ever more popular among the possible sports and professional diving centres and underwater guides are available for both beginners and those who are already experienced. They provide boats and all necessary assistance for the exploration of the spectacular seabed, considered one of the most important in Italy. Trekking excursions with naturalistic and botanic itineraries make it possible to cover the entire lenght of the islands. Comfortable walks pass breath-taking views and spellbinding locations where the land meets the sea.
From Giglio Porto to Giglio Castello and to Campese
This enjoyable outing takes you along paths and ancient, flagged mule tracks. It climbs from the docks of the port to Giglio Castello at 405 metres and back down to the tower and the beach at Campese. It's possible to continue along the base of the cliff as far as the Punta del Faraglione.
From Giglio Castello to the Punta Capel Rosso
This enjoyable outing is somewhat longer and goes from Giglio Castello to the island's southern most promontory, passing through the thick Mediterranean scrub. Two marked itineraries make it possible to circle around Poggio della Pagana.
CULTURE
Giglio was settled in antiquity and still contains important historical evidence of the successive peoples who lived there and conguered it. The present port is situated on the ruins of the Roman one and remains of seaside villas and sumptuous buildings have been found throughout the entire area. Medicean watch towers stand proudly, in perfect harmony with the landscape. The Rocca Pisana, the church San Paolo Apostolo and the narrow streets carved into the granite lend this island an unchanging fascination that made Stendhal and so many others fall in love with it.
Photos and texts are property of APT Maremma