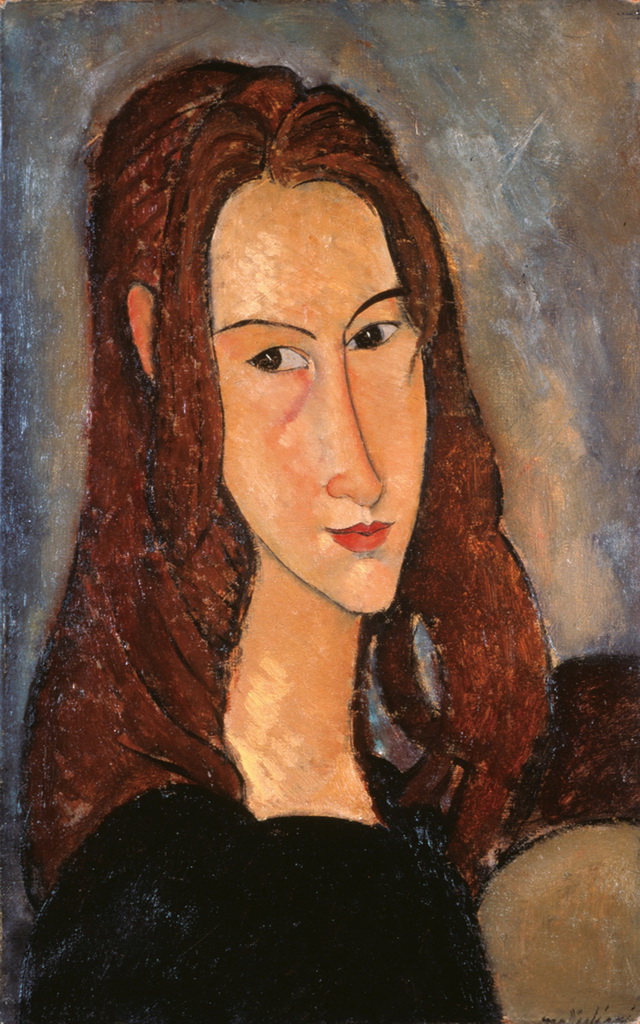 On 22 January 1920 Amedeo Modigliani was taken, unconscious, to the Hôpital de la Charité in Paris and died there two days later at the age of only 36, struck down by the then incurable disease of tubercular meningitis that he had miraculously managed to survive twenty years earlier. On that day, Paris and the world lost one of the greatest artists of all time, a man who, with his instantly recognisable style, had captured the likenesses of friends, lovers and collectors, and the "heroic" faces of Paris's night prowlers.
In the Montparnasse and Montmartre neighbourhoods Modigliani forged friendships with Guillaume Apollinaire, Chaïm Soutine, Paul Guillaume, Blaise Cendrars, Andrè Derain and Maurice Utrillo and he was admired by all of them for his culture, his charm and his charisma. He enchanted them with his genius and his intransigent approach to art, with his good looks and his passionate Mediterranean temperament. But for all that he was a prisoner to alcohol and drugs, he worked himself to the bone and defied death on a daily basis, seeking refuge from his tragic fate in his art.
One of the great rivals of Modì, as he was known in Paris, was Pablo Picasso whom he both admired and loathed. Picasso, for his part, was fascinated by the young Italian artist and by his work, which reflected the full beauty of Renaissance art yet expressed in a thoroughly modern style.
Despite living life to the full, despite his countless lovers who included the poetesses Anna Akhmatova and Beatrice Hastings, despite his energy and his youth, Modigliani could not escape death, a tragedy that overwhelmed the whole of the Paris Avant-garde world. And to cap it all, his young lover Jeanne Hébuterne, herself a talented artist loved by all, chose to take her own life in order be with him in death despite the fact that she was expecting his second child. The upshot of all this was the birth of an instant myth that turned Modigliani into a creature of legend, a fleeting and faintly scandalous figure embodying a Bohemian world, who imbued his portraits and his nudes with a sense of his own outward vitality tempered with a hint of tedium and a deeply melancholic fatalism.
Modigliani and the Montparnasse Adventure. Masterpieces from the Netter and Alexandre Collections (Museo della Città di Livorno from 7 November 2019 to 16 February 2020), an exhibition organised by the Comune di Livorno in collaboration with the Istituto Restellini in Paris and with the participation of the Fondazione Livorno, is curated by Marc Restellini in conjunction with Sergio Risaliti, offering visitors a unique opportunity to admire 14 paintings and 12 drawings by Modigliani only rarely shown in public.
To mark the 100th anniversary of the artist's death, the rooms of the Museo della Città will exceptionally be hosting the paintings and drawings that belonged to two of the most important collectors to have accompanied and supported the artist in life: Paul Alexandre first of all, who stood at the heart of a link between Paris and Livorno, who encouraged Modigliani on his arrival in Paris and who helped him both with his sculptural project The Caryatids and when he returned to Livorno in 1909 and in 1913. But also, indeed above all, Jonas Netter, an expert collector with an extraordinary eye who snapped up the young artist's finest masterpieces. The works on display in the exhibition will include La Fillette en Bleu, a large portrait painted in 1918, depicting a girl aged between eight and ten whose pinafore is the same delicate blue as the wall behind her, in a setting imbued with sweetness and innocence; a portrait, painted in 1916, of Chaïm Soutine, his close friend during the toughest years in Paris, seated with his hands on his knees, hinting at the close bond between the two and at Soutine's affection and respect for Modigliani; a portrait of Elvire au Col Blanc (Elvire à la Collerette) painted between 1918 and '19 depicting the young Elvire, a Paris girl whom Modigliani with his hot Mediterranean blood met and admired for her dazzling beauty and portrayed at least four times, twice clothed and twice in the nude; and a portrait of La Jeune Fille Rousse (Jeanne Hébuterne) dated 1919, depicting the beautiful Jeanne Hébuterne in a three-quarter pose as she turns to face the observer with her deep blue eyes, her gaze so natural and elegant it is almost hypnotic. The drawings on display include several of his Caryatids, including the Cariatide (bleue) dated 1913 from the second cycle which, unlike the first (comprising studies for sculptures inspired by primitive art) is not a preparatory sketch at all but a work in its own right where the female figure is rounder and more voluptuous, with a more nuanced and colorful silhouette.
Complementing Modigliani's work, the exhibition will also be hosting about 100 other masterpieces representative of the grand École de Paris collected by Jonas Netter from 1915 onwards. They include paintings by Chaïm Soutine such as L'Escalier Rouge à Cagnes, La Folle, L'Homme au Chapeau and Autoportrait au Rideau painted between 1917 and 1920, which perfectly capture the artist's style and his penchant for depicting reality in a timeless fashion as the expression of an inner tragedy. In his Self-Portrait, in particular, Soutine puts himself to the test by portraying himself like the great artists of the past whom he so admired, in an almost anonymous pose, his gaze unfrowning yet concerned, his hands out of the picture, his face with its irregular planes emerging from a green scarf; also works by Maurice Utrillo, for instance Place de l'Église à Montmagny, Rue Marcadet à Paris and Paysage de Corse, where all space is serene, calm and silent, and where we see no hint of the occasions on which he was hospitalised in the psychiatric ward after his drink problem drove him more than once to attempt to commit suicide; works by Suzanne Valadon, for example Trois Nus à la Campagne depicting naked women in the open air, a theme much loved by Renoir and Cézanne as well as by Andrè Derain who, in his Bagneuses, produced a painting which many consider to be one of the mainstays of modern art; or works such as St. Tropez and Portrait d'Homme (Jonas Netter) by Moïse Kisling, a Polish artist who also produced one of the most emblematic portraits of the collector Jonas Netter himself.
Livorno has been waiting for this exhibition for a whole century.
Ir was in this city that Amedeo trained as an artist by studying the Macchiaioli and it was here that he fell seriously ill for the first time, miraculously managing to recover before travelling to Paris, the nerve centre of the art scene (and of the art market) where he was to find an environment that allowed him to express his outstanding talent in full. Immersing himself in the artistic Avant-garde of the day in the Ville Lumière, Amedeo found there the energy he needed to become invincible as an artist, as a demiurge and as a repository of truth and knowledge on a par with the great masters of his own time. He almost succeeded in concealing his sickness, his addiction and his inexorable fate even from himself. His culture, his erudition, his talent, his charm and his charisma did the rest. Yet Modigliani was never to sever his ties with Livorno, returning to his native city several times in the course of his tragically short life.
According to the curator, Marc Restellini: "The exhibition is a return home. I am happy with the occasion and I thank and congratulate the City Council as a whole for the courage and rapidity of their decisions. There could have been no better decision than to bring the Modigliani exhibition to his native city on the 100th anniversary of his death. It was here in Livorno that Amedeo Modigliani first developed his creative talent and his Jewish spiritualism, and I hope that here in Livorno, history rather than simply the market can benefit from this marvellous opportunity to accord to him the place that is rightfully his in the history of Western art".
Luca Salvetti, the Mayor of Livorno, also considers the exhibition to be a unique and unrepeatable occasion: "This is an event of exceptional value for Livorno. Amedeo Modigliani returns to his native city, the city where he was born and where he spent his formative years as an artist. He wished to do so in that far off year of 1920, the year when his life was snuffed out in such an untimely manner. He wished to return to live in Livorno with his Jeanne, as he told his painter friends, and many people in Paris were aware of his wish. But death had a different fate in store for him. 100 years after his death, we have succeeded with immense courage in bringing Dedo's soul back to his native city. That soul is embodied in his works, his finest works that will be hosted in the rooms of the Museo della Città for four long months".
And as Simone Lenzi, the Councillor for Cultural Affairs with the Comune di Livorno, put it: "This exhibition is of historic value for the city of Livorno. Nor does my use of that adjective sound excessive because that is how history works: it sets us deadlines at which we have to find the courage to show up. The 100th anniversary of Modigliani's death is one such deadline; or rather, it is the deadline which, at long last, we can no longer afford to miss. So the significance of this exhibition lies in its marking an important celebration, but there is more to it than that. It serves to welcome back Amedeo Modigliani, or "Dedo" as he was known locally, to the city where he was born and where he grew up. At the same time, it serves to put paid to the age-old misunderstanding sparked by the fallout from cheap romanticism and phony legend that has distorted beyond recognition the deep bond between Livorno and its son who was fated to become the 20th century's most extraordinary painter. We believe that the city that remained in the eyes and heart of Modigliani was made up of a specific light, of certain street views, of childhood friends and classmates, of a unique Sephardic Jewish spirituality and of vibrant family memories: in fact of so many things which, starting with this exhibition, we are going to have to recount as part and parcel of a single story that continues to reverberate in our own day. In the meantime, I feel it is worth recalling that in the very same years in which Modigliani was making his indelible mark on the history of painting, the poet Rainer Maria Rilke described infancy with astonishing accuracy as the time when "we were full to the brim with figures", his way of telling us that those figures are the things that stay with us the longest, for the rest of our lives. So whether we continue to live in a provincial city – albeit a city of exceptionally cosmopolitan modernity from the very day it was founded – or we leave it to take the world by storm from an artist's studio in Montparnasse, that panoply of images with which we were born and grew up is the fuel that shapes our gaze for ever. Today, that gaze that was forged in this city has come back home".
The exhibition catalogue edited by Marc Restellini is published by Sillabe.
For further information:
Museo della Città
piazza del Luogo Pio, Livorno
+39.0586.824.551
museodellacitta@comune.livorno.it
TECHNICAL FACT SHEET AND EXHIBITION SERVICES
Exhibition promoted by
Comune di Livorno
main partner: Fondazione Livorno
Exhibition title
Modigliani and the Montparnasse Adventure – Masterpieces from the Netter and Alexandre Collections
Exhibition venue
MUSEO DELLA CITTA'
Piazza del Luogo Pio, Livorno
Exhibition to run
7 November 2019 – 16 February 2020
Opening hours
Monday to Thursday 10.00 am – 7.00 pm
Friday, Saturday and Sunday 10.00 am – 11.00 pm
Open on Christmas Day and New Year's Day
Art director
Marc Restellini
Exhibition curated by
Marc Restellini
Exhibition coordinated by
Sergio Risaliti
Exhibition layout designed and supervised by
Luigi Cupellini
Exhibition layout produced by
Opera Laboratori Fiorentini – Civita
Admission
full price: €15.00.
concession: €10.00 (young people aged under 18 and senior citizens aged over 65)
all school groups: €5.00 (per student); admission free for up to two teachers per class group;
admission free for children up to age 6 accompanied by an adult, for leaders of groups of at least 25 visitors, and for journalists on production of professional ID.
Audio-guide: €3.00.
Advance booking fee: €1.00 for tickets purchased on line (concession tickets for school groups at €5.00 per student incur an advance booking fee of only €0.50);
Guided tour in Italian: €75.00 for groups of up to 25 visitors