The town, so like the Parco del Delta del Po, was proclaimed from UNESCO World Patrimony of the Humanity.
Enchanting the historical centre that is developed around at the square of the Cathedral, structure that harmoniously fuses the romanesque style of the inferior part with gothic style of the superior part: was erected beginning from XII century and the front, in white grey and pink marble, has a magnificent Giudizio Universale work of a unkwnon sculptor, on the central loggia; inside, remade and re-arranged in different periods, is decorated of statues and frescos, among which pick the frescos of Benevento Tisi from Garofalo representing San Pietro and San Paolo; the Martirio of San Lorenzo, work of Guercino and the Giudizo Universale of Bastianino.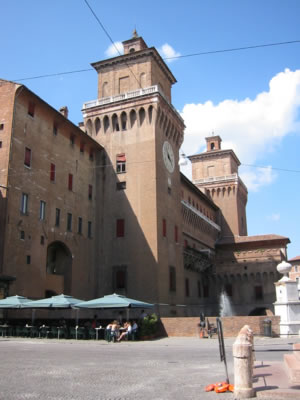 A lot of works that adorn during the centuries the naves and apses of the Cathedral are now kept by the Museum of the Cathedral of San Romano road. On the Trento Trieste Square that is open on the right flank of the Cathedral raise the imposing belfry of renaissance period in whitw and pink marble, work (unfinished) ascribed at Leon Battista Alberti. Undiscussed symbol of the town is the Castello Estense, or of San Michele, raised for order of Niccolò II of Este in 1385 defend himself from the people that menaced revolts against the family of Signori; the structure is suggestive and imposing and has all the features of the military fortification, is surrounded from a deep ditch with raising bridges and thinloop-holes, but in the next periods, stopped the danger of revolts, the Castle was a ducal residence and were added at the aboriginal architecture the polished swings, the balconies in white marble and the wonderful decorations turns to embellish the flats of Duchi. The towns offers still tens between Palaces, Churches, Basilicas, monuments and museums for which we defer you at the link that you find in this page upwards and right.
Come out from the town is immersed in one of the panoramas more suggestive of the italian land: the Regional Park of Po; established in 1988, is the more wide between the Parks and the Regional Preserve of Italy with its 53.653 hectares of surface having like common denominator the presence of the water; it offers at the visitor a charming show puts in scene magisterially from the rich and variegated fauna (birds, amphibians, reptles and mammals that here hibernate, nest or appropriate) and the over 1000 sort of trees.
A rich panorama of suggestion and interesting destinations, from appreciate also in bicycle, the means of locomotion more beloved and widely used in all the territory, thatb allows of lower harmoniously in the sounds, in the silence and in the scents of the nature pedaling without hurry on flat and paved roads.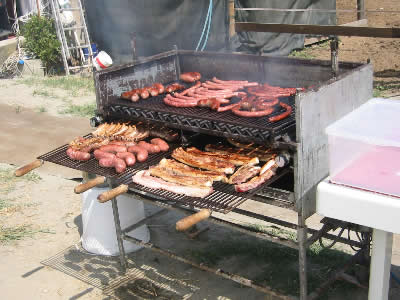 For who instead loves the pleasure of the taste the ferrarese territory offers three routes, called "Strade dei Vini and of Sapori" that conduct the tourist between farms, wine-shops, inns, restaurants, agriturismi and where taste the typical products of the zone:cold cuts (salt pork for gravy and at the garlic), ferrarese bread ("the Coppia"), eel marinated, wines (Lambrusco di Sorbara, Sauvignon, Merlot and Bianco di Bosco), fresh stuffed pasta (cappellacci and tortellini) and the sweet Pampepato. Integrant element of the cheerful and relaxed atmosphere that is breathed in this zone of Italy are the folkloristiche, artistic and cutural events that, in every period of the year, but above all in spring/summer, animate the town: first between all the Palio, that is the most ancient in the world; was founded from Common of Ferrara in 1279, making official an ancient popular tradition of decades of games and parties that are developed to celebrate the marquis and Signore della Città. Azzo VII Novello d'Este; the Palio from then was course almost continuously, until at 1860. The "Palio" is composed in four different competitions: the run of the horses, of the jackasses, of the women and of the men. At present the Palio of Ferrara is disputated a time at the year, the last sunday of may, while the saturday of the last weekend takes place the Corteo Storico where, with over 1000 figurantes in renaissance custom, the eight contradas march from the Pusterla at the Angeli long corso Ercole I d'Este reach the Castello Estense where take place the ask at the Palio and the solemn oath. A lot more recent, but of as much recall is the Ferrara Buskers Festival, review don't competitive of the better musicians of road from over 25 nations: is born in 1988, is developed in the historical centre of the town durinf the last week of august and boasts every year hundred of thousand of visitors. Different are the occasions of fun also in province: well-known is the Carnival of Cento, already celebrated in 1600 and took at the notoriety in the last 15 years thanks also the twinship with Carnival of Rio de Janeiro: enormous carts of papier maché realized from six carnival associations of the town, processions in mask, artist of road, dancers of samba from Brasil and to end spetacular fireworks.
To spend instead days more "tranquill", from may at september take place in a loto of countries of the zone parties, festivals, fairs, between that: the festival of the Tortellone of Zucca to San Carlo di Cento in august, the Festival of the Fish of Sea to Burana di Bondeno in weekend of july and august, the Festival of the Truffle to Sant'Agostino and many other, for all kinds and preferences. (the connected pictures were granted from the photographic archives of the Ferrara's Province)