One of the most interesting itineraries leads toward the Castle of the Carretto Marquises of Saliceto, an imposing manor dating back to the second half of the 16th century, that houses some beautiful frescoes on the vault of the loggia and a sandstone portal of good workmanship. Another interesting building is the Mombasiglio Castle - recently restored - a real showcase for all the activities of the Mondovì and Ceva area: agriculture and tourism, oenogastronomy and handicraft. This site - which enjoys a beautiful paorama - houses several cultural happenings sand it is also going to become a museum of local history dealing with the Napoleonic occupation.
Other castles can be found in Lesegno and Sale San Giovanni, while in Priero one can visit a 36m-high medieval tower. Besides, the Gothic frescoes - dating from 1493 - in the Chapel of Santa Anastasia in Sale San Giovanni are also worth a visit, while Castelnuovo di Ceva - tiny village dominated by an imposing medieval tower - deserves a stop for the Cemetery Chapel of San Maurizio
that houses a cycle of frescoes dating from 1449 and including a nice portrait of Saint Maurice riding a horse and wearing refined renaissance clothes.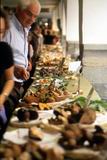 The village of Ceva - small chief town at the bottom of the valley - lies in the small wedge between the Tanaro river and the Cevetta stream and it is well-known for the delicious mushrooms that grow in the surrounding area. The village, whose tasty local cheese was quoted in Pliny's works, once housed an impressive Savoy fort - knocked down during the Napoleonic occupation - that offers an amazing view over the Alps, the Langhe area and the plain. In the town centre - characterized by its arcades - one will notice the Guelph Brolio Tower that dates back to the 14th century. Since 1861 Ceva has also been housing a charming tiny theatre dedicated to the playwrights Carlo and Leopoldo Marenco.
In the Mongia Valley the village of Viola is a summer and winter resort, while in Montezemolo - in the Upper Cevetta Valley, where the Regional Honey Fair is celebrated every year in July - one will find the visitors centre of the Nature Reserve of the Belbo Sources, a wonderful protected area which offers several hiking, mountain-biking and horseriding opportunities among wooded hills and wet zones.
Texts are taken from "Artistic, historical and religious itineraries in the valleys of yhe province of Cuneo - Between Art and Faith" A.T.L. del Cuneese.
Photos "Archivio A.T.L. del Cuneese".