The first highlight is the Basilica Regina Montis Regalis in Vicoforte, started in 1596 during Charles Emmanuel I of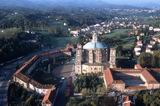 Savoy's reign. Building works were originally confided to Vitozzi but they were completed in 1733 only, as Gallo closed the structure with the biggest elliptic dome in the world and a smaller one on the top. The vault, which covers a surface of 6032 m2, was frescoed between 1745 and 1752 and it is today the widest painted surface in the world displaying one single subject: Mary's life and glory.
The chapel of San Fiorenzo in Bastia is also worth a visit: built between the 10th and the 15th century, it preserves beautiful frescoes dating back to the 15th century, recently restored.
Pamparato, lying in the wonderful scenery of the Casotto Valley, is a typical example of medieval mountain village. One should visit the tiny chapel dedicated to Saint Bernard of Chiaravalle with a cycle of frescoes dating from 1492 and displaying the saint's life. The village is also renowned for the production of maize biscuits and the presence of a cellar for the ageing of P.D.O. Raschera cheese.
Besides do not miss the chance to taste the typical buckwheat pudding, the "cupete" (dried fruit between two wafers) and the Dolcetto Wine of the Langhe Monregalesi. Not far from there, in the village of Valcasotto, one will find the Royal Castle, the summer residence of the Savoy family. These valleys hide several frescoed medieval chapels, such as the Romanesque parish church of S. Maurizio in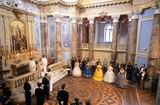 Roccaforte Mondovì with two asymmetric naves, two apses and a cycle of Romanesque-Byzantine frescoes. Between Roccaforte and Villanova Mondovì one can find the picturesque Sanctuary of Santa Lucia dating from the 13th century and lying on a rock. In the upper quarters of Villanova Mondovì, the medieval square Piazza S. Caterina houses a 14th century parish church that preserves some beautiful frescoes. In San Michele Mondovì one can visit the Chapel Madonna della Neve that offers a series of frescoes dating from 1403 and displaying the Celestial City and the Works of Mercy opposed to Hell. Finally do not miss the wonderful Karstcaves of Bossea - with their wide amazing halls and the remains of the "ursus speleus" -, Dossi and Caudano.
Texts are taken from "Artistic, historical and religious itineraries in the valleys of yhe province of Cuneo - Between Art and Faith" A.T.L. del Cuneese.
Photos "Archivio A.T.L. del Cuneese".