In Nucetto, Perlo, Priola and Ormea the ruins of the castles alternate with old Saracen towers. Bagnasco houses a Roman bridge, while Garessio - mainly known for its spa and its typical dishes based on dried chestnuts - is worth a visit for its medieval centre and the Sanctuary Nostra Signora delle Grazie di Valsorda. This church was built around the year 1400 as an oratory preserving a fresco of the Virgin Mary with the Child and it was enlarged during the second half of the 17th century after a miraculous event. Between 1901 and 1925 a new and more imposing sanctuary was built near the old one and it was provided with a huge dome of reinforced concrete.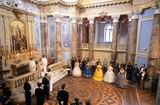 In the district of Garessio, in the Casotto Valley, one can also find the Royal Castle. The present building, founded in the 11th century as a charterhouse, was erected in the 18th century following Vitone's design. The Savoy family acquired it in 1837, so the Carthusians' prayers and labour were quickly replaced by the amusements of Charles Albert's hunting court; however onyl during Victor Emmanuel II's reign the castle became the stable summer residence of the royal family. Although the inside is quite sober, one can admire some remarkable rooms such as the Green Drawing-Room - with its baroque armchairs - and the Music Room. One will also notice the chandeliers, the doors and the pictures, especially the Black Lady's one, which was probably painted by Van Dick or by his school.
The town centre of Ormea is characterized by its typical alleys called trevi (carrugi) and it is nowadays studded with some statues sculptured in black marble - coming from a local quarry and creating different colours shades - by some successful contemporary artists. One of the most interesting itineraries is the one by the artist Benone Olaru, who sculptured four big fountains, some statues and some original basreliefs.
One should also admire the parish church of S. Martino with its Gothic 14th century frescoes and one crucifixion by Moncalvo. The Romanesque bell tower of the parish church (10th century) also houses the old town gate.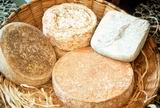 Besides do not miss a break at the local restaurants, which offer buckwheat pudding, mountain potatoes and excellent cheese sorts, called Sora, Ormea and Raschera. Finally the villages of Briga Alta, Viozene and Upega offer amazing mountain landscapes.
Texts are taken from "Artistic, historical and religious itineraries in the valleys of yhe province of Cuneo - Between Art and Faith" A.T.L. del Cuneese.
Photos "Archivio A.T.L. del Cuneese".