In the complex, which carries the sign of Boetto's works (17th century) one should admire: a 15th century fresco, a wide 16th century cloister, the upper abbatial church (12th century) housing Parentani and Jan Claret's frescoes. If one goes down, one will reach Boves and the old religious complex of Madonna dei Boschi. The building, which shows Romanesque features, was quoted in a document dating from 1261. During the century ries it was extended and painted several times, starting from some 15th century frescoes dedicated to Mary's life and Jesus' childhood that were completed in the 16th century by other pictures displaying the Passion. The most interesting frescoes are the Last Judgement ones, probably painted in the second half of the 16th century by Rossignolo and influenced by the Sixtine Chapel.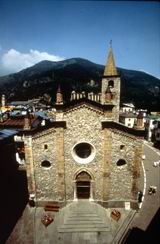 The Vermegnana Valley, which leads up towards Limone Piemonte and the Tende Pass, offers a wide range of opportunities for a pleasant holiday, such as the natural walks along the salt routes once furrowed by the Romans or amid the beeches in the Palanfrè wood. Vernante, Pinocchio's village, deserves a stop for its more than 100 murals reproducing Mussino's drawings, the first illustrator of Collodi's book.
In Limone one should visit the parish church of San Pietro in Vincoli, a beautiful example of Piedmontese Gothic with a Romanesque bell church and a nice stone facade. The baroque inside houses a sculptured 17th century wooden pulpit coming from the Chartehouse of Pesio, while not far from there one can admire a beautiful fountain dating back to 1510. Do not miss the theatre "Alla Confraternita": this deconsecrated church is now used fro cultural purposes. Besides, with its "Riserva Bianca", Limone is one of the major ski resort in the province. The Gesso Valley begins in Borgo San Dalmazzo, called Pedo by the Romans, and goes up towards Valdieri where it bifurcates into the gorges of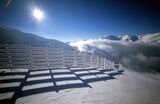 Entracque and Terme di Valdieri. Here visitors enter the Nature Park of the Maritime Alps. Thanks to its proximity to the sea, the park houses some Mediterranean plants, such as the Juniperus Phoenicea and other endemic species. The village of Entraque preserves many tiny jewels, such as the 16th century parish church of Sant'Antonino Martire, the homonym fountain and the Museum of Sacred Art.
Texts are taken from "Artistic, historical and religious itineraries in the valleys of yhe province of Cuneo - Between Art and Faith" A.T.L. del Cuneese.
Photos "'Archivio A.T.L. del Cuneese".