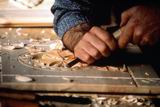 One example for that is the Bahio in Sampeyre, a more than 1000-year-old event celebrating every five years (next edition in 2007) the expulsion of the Saracens from the alpine valleys. The valley is also popular for the wood handicraft, the pottery of Rore and the world-famous harps of Piasco. Besides, we should write about local gastronomic delights, such as the revioles (long-shaped gnocchi) and the tumin (fresh cheese) from Melle.
The itinerary begins in Costigliole Saluzzo, at the bottom of the valley, with the 18th century Giriodi's Palace, designed by Vittone. The buildings is nowadays seat of the Town Hall and can be visited in summer, on Sundays too. The hill houses three castles, among which the Red Castle (Castello Rosso) - transformed into a hotel - preserves a wonderful Christ by Hans Clemer.
The Parish Church of SS. Filippo and Giacomo has s Romanesque bell tower, whose high spire is covered with majolica tesserae (15th century), and preserves some Romanesque frescoes dating from the 11th and 14th century. Rossana is worth a visit, as it houses one of the masterpieces of the Piedmontese Gothic style - the Church of Assunta. The Parish Church of S. Andrea in Brossasco offers a wonderful 15th century flamboyant portal, while the tiny Church of San Rocco preserves a series of frescoes dating from 1530. The Parish Church of SS. Pietro and Paolo (open) in Sampeyre - the chieftown of the valley - houses some frescoes, which were probably painted by the Biazaci brothers, and a Gothic stone portal.
Casteldelfino deserves a stop for the Romanesque-Gothic parish church of Santa Margherita - boasting a beautiful sculptured portal and some Biazaci brothers' frescoes - and the ruins of the 14th century Delfini's Castle.
A road dominated by the Pelvo d'Elva (3064 m) leads to Bellino: the villages leading there are real masterpieces of the alpine-provencal art. There time is "beaten" by sundials (recently restored) that - together with stone sculptures and wooden balconies - decorate the facades of many buildings. The 15th century parish church of San Giacomo in the village called Chiesa (1480 m a.sl.) has a beautiful Romanesque bell tower.
If one goes forward towards Pontechianale, one will notice an artificial lake first and then, not far from there, the Swiss stone pine wood called Alevè, the widest in Europe. The most beautiful village in the valley - for its traditional alpine architecture - is Chianale, with the old 15th century parish church of Sant'Antonio and the parish church of S. Lorenzo, preserving superb baroque wooden vestments and vessels: on August 10th, day of the patron saint, local people wear the colourful traditional clothes.
Texts are taken from "Artistic, historical and religious itineraries in the valleys of yhe province of Cuneo - Between Art and Faith" A.T.L. del Cuneese.
Photos "'Archivio A.T.L. del Cuneese".