Bernezzo, tiny village at the valley bottom, deserves a visit for the parish church Madonna del Rosario that dates from the centuries 14th and 15th and preserves the vault frescoed by Hans Clemer with the symbols of the Evangelists. In the medieval centre of Caraglio - the chieftown of the valley - one will find the Church of S. Giovanni: the structure is basically Gothic but it was modified starting from the Baroque period. The church also houses some medieval elements such as some 15th century frescoes that show for instance S. Ursula and the 11,000 virgins, a wonderful Magdalene and the Man of Sorrows. The Capuchins' Monastery, built starting from 1697, is also worth a visit. The building houses today the Cultural Association Marcovaldo and the Research Centre of Visual Arts.
The Red Spinning Mill (Filatoio Rosso), which was built between 1676 and 1678 by the silk entrepreneur Galleani, displays a regular and symmetric structure characterized by two inner courtyards, cylindrical angular towers and stucco and terracotta decorations. The inside once housed all the tools for the silk reeling and the organzine throwing mills; the fabric was then exported to Lyon and all over Piedmont.
The building which was recently restored, is nowadays used for modern and contemporary art exhibitions.
The village of Valgrana, which is surmounted by the ruins of the castle, offers of Trinity Hospice, frescoed by the Biazaci brothers, and the Chapel of SS Bernardo and Mauro with some beautiful Pietro da Saluzzo's frescoes dating back to the 15th century; painter also worked at the Chapel of San Sebastiano in Monterosso Grana. Here begins the side valley that leads to Sancto Lucio de Coumboscuro: the village is the seat of a provencal movement and of an ethnographic museum.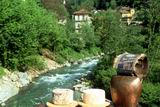 In Castelmagno, village which gives its name to the king of the P.D.O. cheese sorts - used to season delicious potato gnocchi, the valley offers all its charm.
Its hamlets lead to the stately Sanctuary, built at the foot of Mount Tibert, in a place once consecrated to Mars' worship. The sanctuary is dedicated to Saint Magno, brave soldier of the legendary Thebaic Legion and patron of the herds, who was martyred here.
The oldest part of the building is the Allemandi Chapel, frescoed by Pietro da Saluzzo in the 15th century.
Texts are taken from "Artistic, historical and religious itineraries in the valleys of yhe province of Cuneo - Between Art and Faith" A.T.L. del Cuneese.
Photos "Archivio A.T.L. del Cuneese".