Beyond it there is the Curch of S. Andrea with paintings of the Savigliano school and the wonderful Taffini Palace from the 17th century. Inside the main room of the palace there is an important fresco representing the glorificationof the Savoy duke Vittorio Amedeo I. The Muratori Cravetta Palace is a wonderful example of the mannerist architecture whose inside facade was painted by the Arbaudi brothers in the 17th century. The palace includes the room, with a lacunar ceiling painted with grotesques and coats of arms, where Carlo Emanuele of Savoy died in 1630 from the plague. The town museum houses a plaster casts collection dedicated to the plaster muolds of Davide Calandra's sculptures. Among them the big frieze adorning the Montecitorio hall in Rome.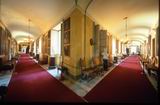 In Racconigi there is the Royal Castle, an elegant summer residence of the Savoy family. It was originally a fortress, then it became ahunting residence and during the centuries it underwent lots of changes. It is possible to visit the first floor (noble) and the second one (residential), the big kitchens and the royal chapel. On Sundays and holidays it is also possible to visit the park with its green-houses (among the most famous in Europe) and the Neo-Gothic Margherie, typical examples of the evocative taste of the 19th century.
The symbol of the town of Fossano is the Acaja castle, built in the 14th century. Emanuele Filiberto and his son Carlo Emanuele I lived there, but at the end of the 17th century it was used as prison for 400 Waldnsian. Inside the castle - today restored - there is a multimedia library. It is possible to go up one of the four corner-towers and admire the panorama. The other important structure is the Maggiore Hospital and the Church of the Holy Trinity built between 1724 and 1751 by the architect Gallo from Mondovì. Via Roma is the main arcades street of the town centre: from the cathedral it is advisable to go towards the Borgovecchio and walk among the Middle Age houses, the nice Church of San Giorgio and the Church of San Filippo Neri.
Benevagienna - formerly called Augusta Bagiennorum - houses an archaeological site of the Roma era including the ruins of the theatre, of the palaeochristian basilica and the aqueduct. The town centre offers interesting medieval and baroque houses.
Texts from "Percorsi artistici, storici e religiosi nelle valli e nella pianura della provincia di Cuneo - Tra Arte e Fede" per gentile concessione dell' A.T.L. del Cuneese. Images Archivio A.T.L. del Cuneese.