The valley starts with Busca, the Biazaci brothers' town. Those artists worked a lot in that area as witnessed by the Chapels of San Sebastiano and Santo Stefano.
Villar San Costanzo does not only offer a curious geologic erosion phenomenon in the Nature Reserve of the "Ciciu", but also the old Benedectine Abbey of San Costanzo, founded in the 7th century, modified by Gallo during the 18th century baroque style and now called Parish Church of San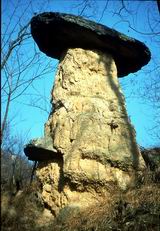 Pietro in Vincoli. The complex houses the Chapel of San Giorgio - with Pietro da Saluzzo's frescoes that display the Saint's life and martyrdom (1476-69) - and the crypt (11th century) with cross vault and colonnade. A walk in the wood leads to the Church of San Costanzo al Monte (visit from the outside), a marvel of the Piedmontese Romanesque, erected between the 11th and 12th century on a former church coeval of the Benedectine abbey. If one goes along the valley, one will discover several small jewels of medieval art: the Church of Sant'Antonio in San Damiano Macra, the Chapels of S. Pietro and S. Salvatore in Macra, the amazing Romanesque church of San Peyre in Stroppo, the parish church and the chapel of the Saints Sebastiano and Fabiano in Marmora and specially the Parish Church of Santa Maria Assunta in Elva, whose apse was entirely frescoed by the Flemish painter Hans Clemer at the beginning of the 16th century. In Dronero one can visit the crenellated "Devil's Bridge" (Ponte del Diavolo) and the Mallé's Museum, which houses the collections of the homonym art historian and director of the municipal museums in Turin: paintings dating back to the 16th century and Flemish works, 18th, 19th and 20th century art, bronze and alabaster clocks dating from the last century, rococo pictures and old photographs. The Museum of Sacred Art in Acceglio, located in the Oratory of the Confraternita dell'Annunziata, houses come paintings coming from the Capuchins' Monastery, a rare 15th century miniature and several votive offerings.
Texts are taken from "Artistic, historical and religious itineraries in the valleys of yhe province of Cuneo - Between Art and Faith" A.T.L. del Cuneese.
Photos "'Archivio A.T.L. del Cuneese".